Nutrition & Hydration Week 12th – 18th March 2018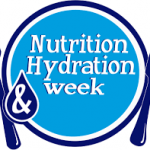 Nutrition and Hydration week set out a challenge to us as care providers to ensure we're optimising opportunities to promote nutrition and hydration for all our residents.
The week consisted of:
Big Breakfast Monday (the most important meal of the day)
Snacky Tuesday (understanding the value of snacks between meals and at supper)
Wednesday – Afternoon Tea
Thirsty Thursday (try out some different cordials or spritzers)
Fishy Friday
Smoothie Saturday
Sundae Sunday.
We have used the feedback from the residents and incorporate this into our meal planning for our spring menus.
As part of the Nutrition & Hydration week we had smoothies, special tea with beautiful homemade cakes made by Annie in the kitchen and a juicing of raw fruit and vegetables by a visiting Juice Therapist. Most of the residents had an opportunity to try watercress and apple, carrot, ginger and apple and beetroot juices. The flavours were vibrant and almost everyone loved them all!