Gardening Club
Last month we planted some herb seedlings as part of our gardening club. We ordered a vegetable trough to replant them into later in the year and regularly watered our seedlings while we waited for the trough to arrive (a month later). The trough arrived, and it was 'all hands-on deck' to paint/treat it and plant it up, because the seedlings have been drying up quickly in this hot weather. The herb garden is now doing well in the back garden at Culliford and everyone is welcome to visit it the sensory garden space; which is wheelchair friendly too!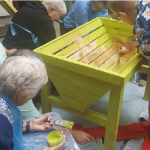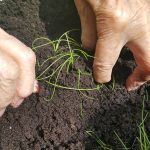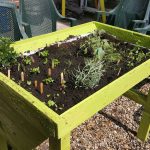 Fish & Chips Lunch
On the Wednesday 1st August we have planned our annual Fish & Chips (from the chippy) lunch at Culliford House. All family, friends and staff are welcome. Allen Knott will perform Holy communion in the morning and after lunch in the afternoon we will have a sing along with him. The idea is that all staff & residents have an opportunity to enjoy a social occasion & come together in the sunshine for an informal chat & have a bit of fun.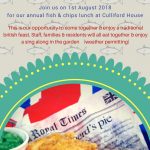 Summer Fun
The residents have been enjoying the sunshine with walks along the river (feeding the ducks), regular ice-creams, two residents went to the suffragette event (100 years of voting rights for women) at the Borough Gardens & enjoyed tea & cake in the park. In June we were also invited to the (RVS) Royal Voluntary Service afternoon tea at the Thomas Hardye School; again….lots of tea & cake!! This was to help them to celebrate the RVS's 80th anniversary. We were served by 6th form students from the school, we met the Dorchester Mayor and tried our hand at the RVS quiz.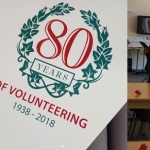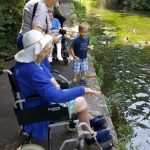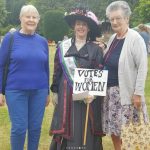 On the last Friday of each month we visit the reminiscence sessions at Dorchester Library. Each session is based on a theme, our last theme was the royal family and it was very interesting because a couple of the members who came along had stories to tell. Residents, their families and members of the public are invited along to each of these sessions and refreshments are provided. It is always fun and interesting, please contact us if you'd like to know more. Our next visit is 27th July at 11AM with the theme of 'Visiting a library'
We have had quite a few birthdays this term and our aim is to make each birthday the best it can be. We offer a choice of your favourite birthday cake and your choice of lunch and/or tea with your friends and family. If your relative has a birthday coming up, please do contact us to help make it special. This last term we have had parties, lunches out and trips to an animal farm as part of some resident's celebrations… We also offer nail file and polish (for the ladies) and a glass of fizz to help residents start the day off feeling special.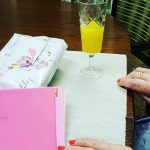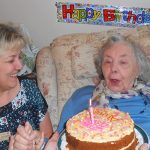 Open Art Sessions
Our Open Art Session in the dining room as a lovely event this month. We invite the public and friends and family to come along and enjoy an art session with the residents with a view to building friendships and stimulation to the residents. This event was well supported, and we are planning another for later in August. During this session we added pattern to rocks for the garden and the lovely colours and bright chatter really brightened the resident's mood. Please do come along and support the next event as it is a wonderful opportunity to see the residents in 'creative action'.