We are pleased to announce that we have successfully passed the GSF Care Homes Re Accreditation Assessment Round and have been awarded the Quality Hallmark Award at PLATINUM status.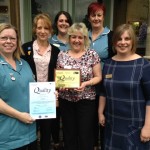 Culliford House has demonstrated an ongoing commitment to meeting the wishes of its residents in the final months of their lives through better planned, more coordinated and compassionate care.
The Gold Standards Framework is a framework to enable a 'gold standard of care' for all people nearing the end of life and providing our residents with the best possible care.  We believe our residents deserve the best care that we can provide and this means a high quality, reliable and consistent standard –helping them to live well for the rest of their lives and die in the place and manner of their choosing. For many this means avoiding hospital admission in the final stages of their life, enabling them to die with dignity at home.
"We now work very closely with our GP's and our staff have the confidence, training and support to talk to residents, plan their care and look after them in the home right up until their death. It is our firm belief that our residents should receive the sort of care we would want for ourselves or our loved ones. " Julie Tombs GSF Lead Co-ordinator.
"The Gold Standard Framework has provided our home with procedures allowing our staff the confidence to meet the needs of our residents and relatives in their final days". Suzanne Jackson  – Registered Manager.