Christmas is a very special time for our residents and many look forward to gathering with loved ones to enjoy the festive period.
We fully embrace the Christmas spirit at Culliford making sure all have a fabulous time. We hosted our annual Christmas Tea on the 3rd and a lovely Christmas Fayre on 16th December. We invited members of the community to join in with our residents and celebrate. We were fortunate to have many visitors and lots of support.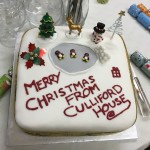 We also enjoyed a visit to York Road Nursery on the 6th December where children sang a variety of Christmas carols and performed a heart-warming nativity play. Residents were also treated to some Christmas stockings filled with chocolate goodies which the children gave out along with a Christmas card.
Allen Knott from the local church also visited and entertained us, getting us all singing, dancing and toe-tapping along to some festive favourites and gave some bible excerpts to celebrate the true meaning of Christmas.