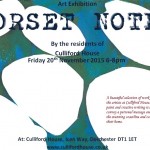 At Culliford House we're hosting our third Art Exhibition on Friday 20thNovember 2015
A small  group of residents have come together on a weekly basis to produce work that is thought provoking, fun and poignant.
The work reflects their situations, their challenges and their love of art.
This year we have been reflecting on memories of Dorset and looking at landscapes
All are welcome to the residents next exciting exhibition!