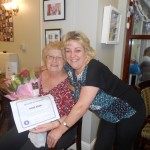 Rose has worked at Culliford since 1992. She has gained her NVQ Level 2 and 3 in care and for many years enjoyed working as Head of Care. Rose has worked as Management deputy for 6 years and enjoyed every aspect of her role. Rose has dedicated 25 years of service, particularly enjoying the contact she had with the residents and always consistently professional, honest, trustworthy and hard working
Rose was nominated as Employee of the month in October for being loyal, reliable, and punctual and going above and beyond the requirements of her job throughout her service at Culliford. She has also been a very valued member of the team and will be very much missed.
We wish Rose all the very best in her Retirement.