It has been a week since the announcement of the national lockdown and the Government's latest guidance on visiting being published. We are delighted that with this new guidance in place, we can support you to continue to meet with your relative safely during this current phase of the pandemic. Our priority as always continues to be preventing the spread of Covid-19 and maintaining the safety and wellbeing of our residents, their visitors, and our staff.
Designated outdoor visiting pod
Our outdoor visiting area has been fitted with an outdoor heater for extra comfort.
Essential bedroom visits
If your relative is unwell and unable to leave their room, we are able to facilitate a visit in their bedroom. You will be taken to their bedroom by a member of staff and asked to ring the call bell when you are due to leave.
Visiting protocol
Visits will be for a maximum of 30 minutes
We aim to ensure all our residents receive a visit wherever possible
If you arrive late for your visit, the length of your visit will be reduced to ensure that other visits can go ahead on time
If you decide to cancel your visit, please let the home know as soon as possible
All visitors will be provided with PPE and a face covering when visiting
We request that you do not visit if you are unwell or if any members of your household are self-isolating, or if you are from an area where there is an enforced local lockdown
Ensure that any gifts that you bring are handed to staff to provide opportunity for sanitisation, in-line with our infection prevention control measures.
On arrival
Please ring the main doorbell
You will be asked to sign attendance register and a temperature check will be taken
In compliance with our infection prevention measures you will be asked to use hand gel to sanitise hands and will be given a facemask to wear
Staff will then take you to the designated outside visiting area
Please do not hesitate to contact our Visiting Co-ordinator, Marnie Moors Deputy Manager if you have any questions or concerns.
~ ~ ~
If you have any queries regarding our management of COVID-19 you can email jeanette.acourt@cullifordhouse.co.uk
So, what have we been up to this last week!
Armistice Day
Another busy week this week! We have been busy making poppies for Armistice Day. Thank you also to Marnie for knitting some poppies for staff and residents.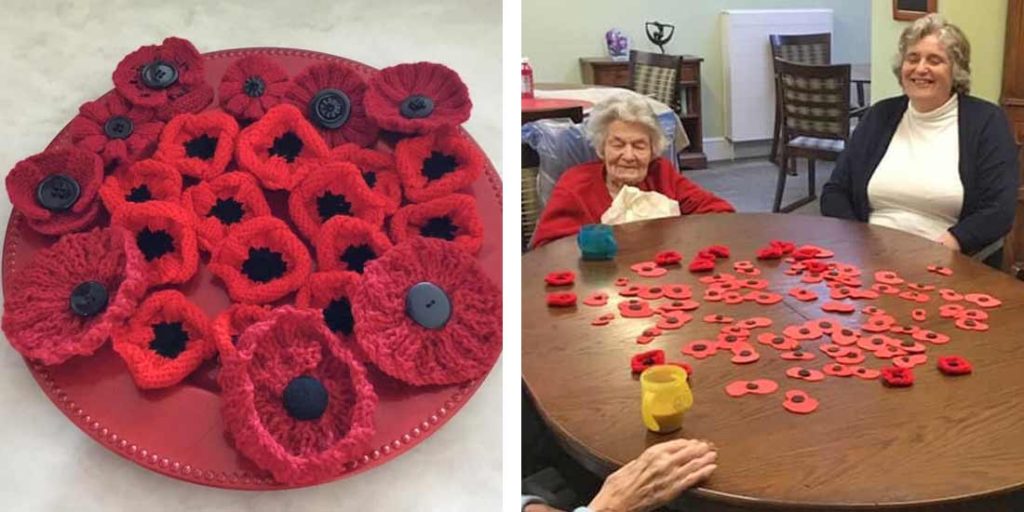 Happy Birthday Culliford
Culliford House celebrated 36 years on Wednesday. A lovely speech was made by John thanking Suzanne and all the staff for the wonderful care. Suzanne said it's been dedication and hard work but having a good team behind you is what it takes and thanked all the staff for their dedication and support.