It's now been 5 months since Culliford went into lockdown and the start of the pandemic. Our day-to-day lives are very different as we adjust to what appears to the new 'normal' in these unprecedented times.
Throughout the pandemic, our residents and staff's safety has always been our main priority and preventing the spread of COVI-19 into our home.
We are also continuing to participate in the governments testing initiative in carrying out routine weekly re-testing for our staff and monthly re-testing for our residents.
We are also continuing to monitor the 'R' rate in our local area very closely and maintain our weekly COVID-19 management meetings.
Our PPE stock levels are monitored each week and we continue to have sufficient levels of PPE to deliver care safely and confidently.
Visiting Reminder
At present we are only able to offer garden visits or essential visits. Should your loved one become acutely unwell or be approaching their final days of life we are able to accommodate essential visits. In these circumstances we can allow up to 2 relatives from the same household to visit.
How to arrange a visit and visitors' protocol
Telephone the home to book an appointment
Visits will be a maximum of 30mins and limited to two visitors from the same house hold.
We aim to ensure that all residents receive a visit, therefore the number of pre-bookable visits may be limited.
If you arrive late for your pre-booked visit, the length of your visit will be reduced to ensure that other visits can go ahead.
Should you wish to cancel your visit, please let us know at the earliest opportunity.
Visitors are asked to wear their own face coverings
If you are unwell or any members of your household are self-isolating, we ask that you don't visit
If you have recently returned from a foreign holiday you are advised not to visit
Ensure that any gifts that you bring are handed to staff to provide opportunity for sanitisation, in-line with our infection prevention control measures.
On arrival
Please ring the main doorbell
You will be asked to sign attendance register and a temperature check will be taken.
In compliance with our infection prevention measures you will be asked to use hand gel to sanitise hands and advised to wear your face covering.
Staff will then take you to the designated outside visiting area
COVID-19 Management Information
We do now have a dedicated page on our website which will give an overview of our on-going COVID-19 management.
Information will continue to be available on our website: www.cullifordhouse.co.uk, via email, our Facebook page and sending out electronic newsletters via mail chimp. If you would like to sign up to receive news, please follow our link on our website.
If you have any queries regarding our management of Covid-19, you can email jeanette.acourt@cullifordhouse.co.uk
So, what have we been up to this week!
VJ Day Memories
We commemorated the end of the war in Japan and shared our memories of that day. We enjoyed watching film clips of the celebrations that took place in London and a number of our residents remembered the dancing and rejoicing that went on.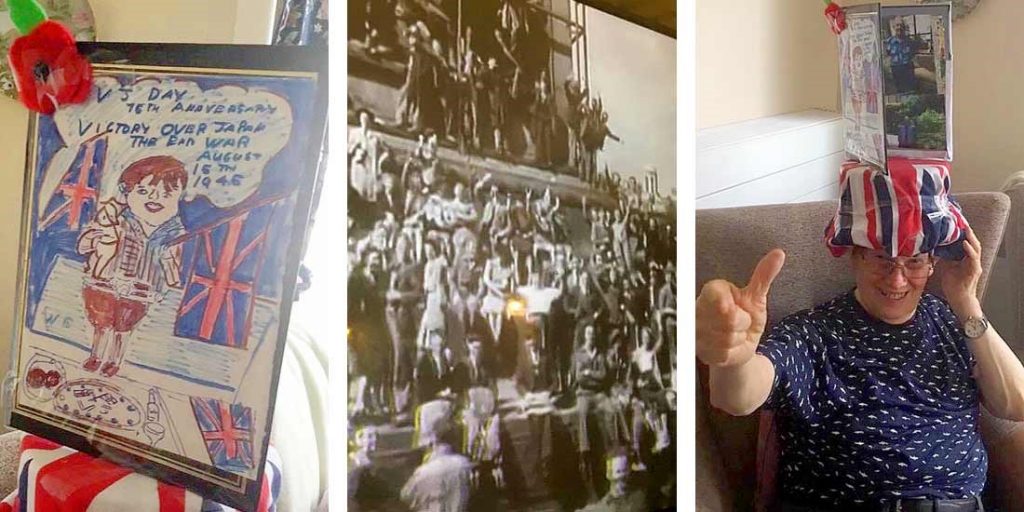 Getting creative with sand and enjoying a taste of summer!
This week we've been busy creating sand candle jars. This was quite a complicated process but overall a successful outcome finished off with a tea light.
Our taste of summer, despite the weather on Wednesday was enjoying a selection of ice-creams with various toppings. Although we didn't have the ice-cream van, we made our own and had a rendition of 'Greensleeves' by our residents. In all we had a lovely time!
Take care and keep safe
I will continue to keep you updated every fortnight with what we've been up to and any new Covid19 information and updates.
Jeanette A'Court
Quality Manager