It is with great pleasure that I am able to say, as of today 3rd July, we have had no positive cases of Covid-19 at Culliford since the start of the pandemic.
This is fantastic news and a credit to the hard work and efforts of our staff to protect our residents. This, of course, doesn't mean the threat of Covid-19 has ended and we will remain diligent to its potential dangers. We are fully aware of how quickly things can change, particularly with the easing of lockdown restrictions and the potential threat of a second wave of the virus.
It is, with this in mind, that we have reviewed our visiting policy and for the time-being, we will still be closed to visitors. We will continue to maintain window visits, booking of these visits is essential and we advise you to continue to book your visits in the usual way. Should your loved one become acutely unwell or be approaching their final days of life, we are able to accommodate essential visits, subject to the arrangements outlined in last week's newsletter.
As some aspects of life are starting to return to normal, it remains to be seen how this may impact future infection rates of Covid-19. With the people in our care so vulnerable to the virus, we feel the most sensible course of action is to monitor any developments over the next 2 weeks and review our policy in line with this. At that point, should the infection rate remain low and the risks reduced, we will look at the possibility of implementing socially distanced garden visits.
I'd like to reassure you that our processes still remain in place to protect everyone in our care.
Our housekeeping team continue to keep the home spotlessly clean to reduce the risk of any viral contamination on hard surfaces. The team do not wear their uniforms to work and are changing in the home prior to commencing duty and then changing back into their outdoor clothes before they leave to go home.
We have meticulously planned to make sure we always have an adequate supply of PPE to keep all our team members and residents safe.
As always, our residents and staff remain our primary focus and we will continue to keep you updated with any changes to our practices.
Website
Our technical issues have been resolved and our website is now back up and running. We would like to apologies once again for any inconvenience.
Information will continue to be available on our website: www.cullifordhouse.co.uk, via email, our Facebook page and sending out electronic newsletters via mail chimp. If you would like to sign up to receive news, please follow our link on our website.
.
If you have any queries regarding our management of Covid-19, you can email jeanette.acourt@cullifordhouse.co.uk
So, what have we been up to this week!
Crafting –All didn't go to plan with our printing efforts this week! But the main thing was, we all had fun!
Reminiscence – We enjoyed sharing memories of our favourite cakes, especially the baking and the aromas of home cooking.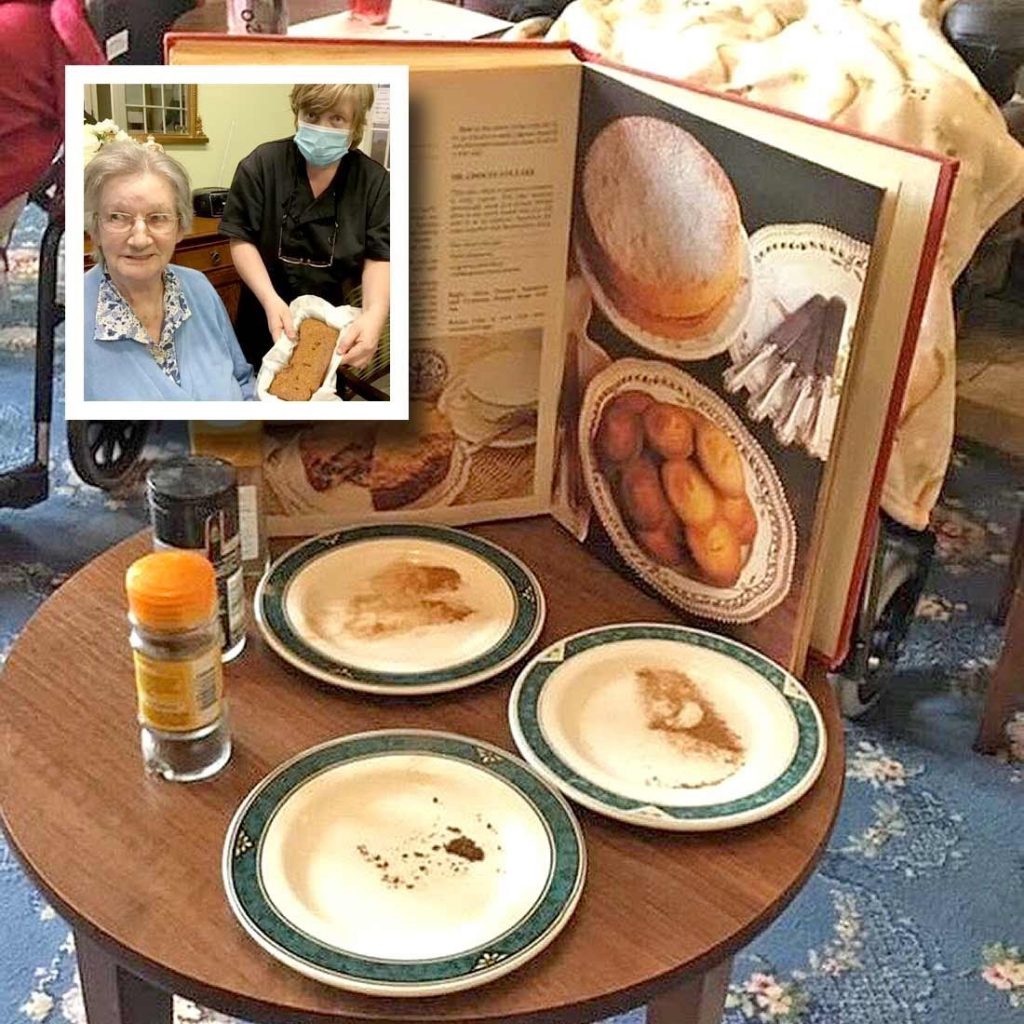 Thank you, Sarah, for the lovely ginger cake we had for tea on Wednesday. This was a request from the residents and it smelt lovely. We look forward to the next one!
Take care and keep safe
I will continue to keep you updated weekly with what we've been up to and any new Covid-19 information and updates.
Jeanette A'Court
Quality Manager