An important part of the day
At Culliford House we recognise that mealtimes are a very important part of the day. Although we have set mealtimes in our dining room, you can choose where and a time to eat and this can be arranged with the cook.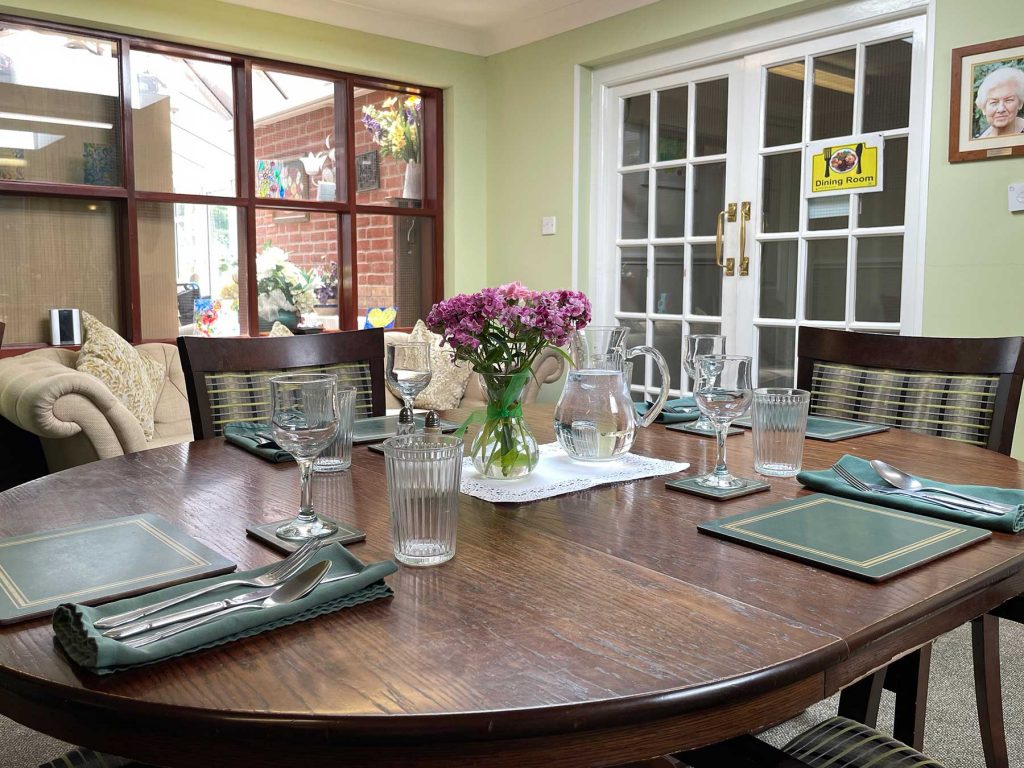 There is a varied menu choice daily and special diets are catered for. Hot and cold drinks are available throughout the day and night on request. Family and friends are invited to enjoy a meal with you and if there is a birthday or other special occasion you'd like to celebrate with them, please let your key worker know in advance so that we can arrange party menus and celebration cakes, etc.
Food menu sample
| | | |
| --- | --- | --- |
| | Dinner | Teas |
| Monday | Sausages in onion and tomato gravy with creamed pots, peas & sweetcorn or french country chicken. Fruit flan with cream. | Quiche, salad, bread & butter, assorted jams and cakes. Fresh fruit. |
| Tuesday | Breaded haddock, chips and peas. Pineapple upside-down pudding with custard. | Hash browns, fried egg, bread & butter. Assorted jams and cakes. Fresh fruit. |
| Wednesday | Steak & kidney pie, new pots, broad beans, country mixed veg. Apple cake with cream. | Pate on toast, salad, Bread & butter. Assorted jams and cakes. Fresh fruit. |
| Thursday | Roast chicken, sage & onion stuffing, roast pots, broccoli, carrots & leeks. Crème brulee. | Salmon & cucumber sandwiches. Bread & butter, assorted jams and cakes. Fresh fruit. |
| Friday | Salad, cold meats and pickles, new pots. Fruit compote with custard. | Mushrooms, bacon and egg with toast. Bread & butter, assorted jams and cakes. Fresh fruit. |
| Saturday | Lamb stew and herb dumplings, boiled pots. Homemade rice pudding with jam. | Cheese ploughmans. Bread and butter, assorted jams and cakes. Fresh fruit. |
| Sunday | Roast beef, roast pots, cabbage, swede & carrot, cauliflower, gravy Ice cream and wafers. | Prawn cocktail. Bread and butter, assorted jams and cake. Fresh fruit. |