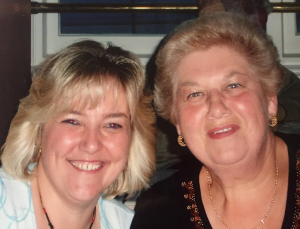 Culliford House has been run for the past 34 years by Suzanne Jackson. Sadly, Suzanne's mum Rita Moors and former proprietor passed away at Culliford House on 23rd September. But continues to run at the high standard set out by her mum Rita when she first opened Culliford House.
Rita was born on the 8th March 1933 and spent her childhood growing with her 3 siblings at Parsonage farm Fordington during the Second World War where both her parents farmed. She attended St Georges School in Fordington and later went on to Green school in Dorchester. Rita was a very talented and able pupil went on to study shorthand typing for 12 months at Weymouth technical college. On leaving college Rita went on to work for Thurman's and Tilley's of Dorchester before owning the shop and Post Office at Fordington where Rita worked as a postmistress for 22 years. Rita has 3 sons and a daughter, Suzanne.
Before owning Culliford House, Rita and her late husband Reginald also owned Montrose Residential Home in Prince of Wales Rd. Rita opened Culliford House in 1984.
Suzanne used to help her parents at Montrose by preparing breakfast for the residents' before going to school and would help around the home in the evening.
At the age of 18 Suzanne decided she wanted to specialise in elderly care and worked full time for her parents. In 1984 they had moved to a larger property, which was the start of Culliford House. Rita maintained an active role at culliford house until 1993 when she stepped back from the day to day running and Suzanne assumed control. However, Rita kept her hand in by visiting culliford weekly to do her 'top to bottom' a check of the home to ensure high standards were maintained –Rita was very much a presence at Culliford house attending Christmas meals, Christmas and Easter Teas, staff meetings and would always personally thank staff for all their hard work.
Suzanne continues to work and develop the home and maintains the vision set out by her late mother. Suzanne is married and has a daughter. Suzanne hopes the business will continue in the family for generations to come.